I've been M.I.A this last week, but I FINALLY got caught up on the orders/shipping with the ETSY store!! It felt like it would never end!! But I'm grateful for the extra money, it's helped out a lot around here lately!!
Anyway, I have a GREAT project to share with you. It's kind of a long one, but I PROMISE it's worth it!!
I saw a super cute porch sign on a blog a few weeks ago and I FELL IN LOVE!!! But, for the life of me, I can't remember which blog it was!! So, if it was you, or you know who is was PLEASE PLEASE PLEASE let me know so I can give her proper credit. Anyway, I decided to make my own version of the sign and here she is!!
**** I FOUND THE BLOG!! THANKS MARIA FOR GUIDING ME IN THE RIGHT DIRECTION!! SHE TOLD ME IT WAS
SWAINSTON VINYL AND DEZIGN
. I WENT OVER THERE AND SHE GOT THE IDEA FROM
CURLY Q CRAFTS
, WHICH IS THE PLACE I WAS LOOKING FOR!! YAY!!! ****
Pretty cute right? The lighting is totally weird because the porch doesn't get any direct sunlight but I did the best I could.
Here are the supplies I used:
1 - 4 x 4
1 - 2 x 4
1 - 1 x 8
wood glue
nail gun
compound miter saw
I had all the supplies on hand so this cost me NOTHING, but you can buy all the lumber for less than $20.
First thing I did was cut the 4 x 4 to the length that I wanted. I went with 4 feet, then I cut the 2 x 4 to 28 ". You can use whatever measurements you like, these worked best for me so it's what I went with!!
Now it's time to make the hole for the sign arm, the 2 x 4 will become the arm. I don't have an exact measurement, but just do what looks best to you. I marked the shape of the 2 x 4 and used a large drill bit to drill a hole in the center of the area. Then used a jig saw to cut out the rest of the wood. The blade wont be long enough, so you'll have to turn the 4 x 4 over and do the same thing.
Insert the 2 x 4 through the hole you just made, you'll want a snug fit. Don't worry about any gaps, you'll fill it with filler later.
The next thing to make was a base of some sort. It took some brainstorming to make sure that the base would be substantial enough to withstand the weight without toppling over, yet small enough to be proportional.
I used the 1 x 8 and cut four 12" inch pieces. Using my compound miter saw I cut 45 degree angles along both long sides of each 8 x 12" piece. If you don't have a compound miter saw, you could always just make a box without the mitered edges.
I used wood glue and the brad nailer to attach the 4 pieces together.
Now to add some supports to the bottom of the 4 x 4. You'll need these supports to fill in the space in the box. Measure the inside of the box opening and get your measurements from that. I just used 2 x 4 scraps. Attach to the 4 x 4 with the nail gun.
Once the supports are attached, slide the post into the box. Once again, you'll want a snug fit.
Use the nail gun to secure the box and post. Ignore the pic of the hubs' head :)
Now it's time to make a top for the box. I had some scrap thin wood (have no idea what the technical term is :) but you could use 1 x 8. Cut 2 pieces and attach them with the nail gun. Now you can fill all the holes and gaps with wood glue or caulk.
I used eye hooks and the open hooks to hang the sign from the arm. Isn't it awesome that I use the correct terminology? HAHAHA, I'm sure my dad would be appalled!!
She got a coat of primer then a nice sand over and then 2 coats of black paint. I sanded the edges for the distressed look then sprayed a high gloss clear coat, since she will be outside.
I will make a sign for each holiday and/or season and also a generic Welcome sign.
For now I just have the Halloween sign. I use green vinyl and my cricut to cut out the dots and the Trick or Treat is a glittered foam sign from $Tree.
I accessorized with some light up pumpkins and a big scary spider. What do you think? Pretty cute right??
I'm sharing here: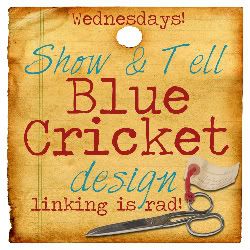 *** Oh, I should said that when I say "I" made this, I should really say that my dad and husband made it. I just stood by and told them what to cut and all that jazz. I totally could have made it though, don't be overwhelmed by it!! I know my directions may be rather vague at times, so if you have questions shoot me an email and I will be happy to answer any questions!! ***
Now that you've waited around for the party, let's get to it!!!